Tech Toy of the Month: Nintendo Wii, Part II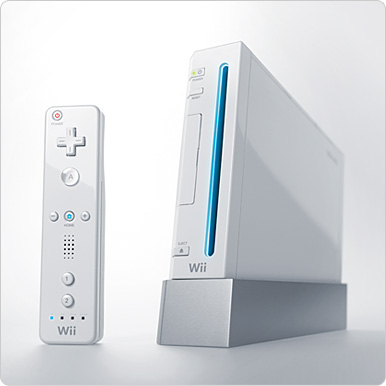 In my earlier article about the Nintendo Wii, I wrote about its revolutionary control system and physically involving gameplay. In this article, I will discuss the Wii's other main features, namely its Internet connectivity and Virtual Console. First, however, I want make a brief mention of something I alluded to in the earlier article. I stated that physical control systems, like the Wii's, will have significance in areas other than video games. I have recently read articles of hospitals and rehab clinics using the Wii as a rehabilitation tool with great success. So already, examples of the applicability of physical control systems are being seen.
As with the other "next-generation" video game consoles, the Nintendo Wii has network connectivity built-in. This allows the console to be connected to your home network and to the Internet as well. However, unlike the other consoles, the Wii's standard network connectivity is Wi-Fi. If you have a wireless network, this makes connecting your Wii to your home network very convenient. If you don't have a wireless connection, you can buy an Ethernet adapter for wired networking. The Wii uses networking to allow for various features. For example, Wii owners can download Wii updates, software, and games through the Internet. Certain Wii games can be played on-line. It is also possible to send messages to other Wii owners. A couple of other interesting Internet-enabled Wii features are the ability to look up your weather conditions and read news articles.
One of the available programs you can buy and download for the Wii is a web browser, which Nintendo calls the "Internet Channel". It costs approximately $5, which you can pay for with a credit card directly through the Wii. Once downloaded, the Internet Channel allows for Internet browsing nearly as simple and full featured as through a regular computer. This is because the "Internet Channel" is actually the Opera web browser, a fairly popular web browser available for common computer operating systems. Basically, this allows for Internet usage on a family's TV. For families that only have one computer, this lets the kids do some web browsing while the computer is occupied.
One of the potentially biggest selling points of the Wii is what Nintendo calls the "Virtual Console". Simply speaking, the Wii has the ability to play games that were originally developed for the first three Nintendo game systems, as well as a few other "classic" consoles such as the Sega Genesis and Neo-Geo. Wii owners can buy and download these older games via the Wii's Internet connection. Once downloaded, the games are available to play from the Wii's main menu. The games play virtually identically to the original games, so it really is a retro experience for those of us who played these games 10, 15, and 20 years ago! What is interesting, however, is that kids who weren't even born when these games were originally released are interested in playing these old games.
This really is a win-win scenario, as retro gamers get to play the games they grew up with and the video game developers get to make additional profit on games they had closed the books on years ago. The biggest problem so far, and the reason I say "potentially" biggest selling point, is that Nintendo has thus far released a pitifully small number of games for the Virtual Console! Nearly a year after releasing the Wii, there are only 46 titles available from the original Nintendo (NES), 22 from the Super Nintendo (SNES), and a paltry 9 from the Nintendo 64. In my opinion, the selection of games available is also poor. There are many, many titles that I would have already paid for if they were only available. I really don't understand the logic behind this, as I believe that a larger and more popular selection of games would result in more sales. Nintendo, if you're reading this, release more Virtual Console games!
Overall, the Wii differentiates itself from the competition primarily because of its control system and the Virtual Console. No other system has the physical control system of the Wii, and no other system can play retro games like the Wii. It is perhaps because of these two features that the Wii has outsold both the XBox 360 and Playstation 3. This is especially impressive considering the XBox 360 had a one year head start on sales. If you'd like a gaming system that will be good for the entire family and brings an entirely new dimension to gaming, you should definitely consider the Nintendo Wii. Good luck finding one!
If you have any ideas for future Tech Toys, please let me know!