Tech Toy of the Month: iMuffs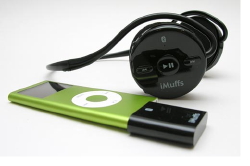 No, they won't keep your eyes warm (or your ears for that matter), but iMuffs (http://www.wi-gear.com/products/imuffs/) will allow you to listen to your iPod without wires. iMuffs are Bluetooth-based wireless headphones that work with any iPod. How can iMuffs work when no iPods have Bluetooth capability? iMuffs come bundled with a Bluetooth adapter that plugs into your iPod. In addition to being wireless, iMuffs have iPod control buttons built into the the headphones so you can remotely control your iPod. If you're walked into the next room while listening to your iPod, you can skip, pause or rewind just by pushing buttons on your headset.
If you have a Bluetooth phone, iMuffs will also automatically pause your iPod and allow you to answer your phone – without taking off the iMuffs. When you've paired the iMuffs with your Bluetooth phone, the iMuffs will detect your phone ringing and send the pause command to your iPod. Then it answers the phone, sending the audio to your ears through the headphones. Using a built-in microphone it sends your voice to your phone. When the call is done, it will unpause your iPod, starting the music back up again!
Other than that, there's not much more to say about the iMuffs. The concept is simple and the execution seems to be very well done. Most reviews show that the iMuffs have good audio quality, and adequate microphone quality if you plan to use it with a phone. At $179.99, they might be a bit pricey, but you are getting what you pay for. Other wireless iPod headphones might be a little less expensive, but they don't have all the features of the iMuffs.
If you have any questions regarding iPods, digitial music or other media, please feel free to contact me.