Live from Macworld: Day 2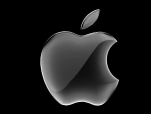 As I sit down in the comfortable "Blogger Lounge", courtesy of Microsoft, I have completed visiting the entire south convention hall of the Macworld expo. I still need to complete the west hall, the smaller of the two halls. I have seen many interesting products, of which I'm sure some future Tech Toys of the Month will come from. I actually was able to get my hands (and eyes and ears) on two products I've talked about before: the Myvu and iMuffs.
The Myvu are basically glasses that let you watch video in a virtual big screen. I tried them on and they basically do what they say. I can see that these glasses may become very popular with video game players, especially "Guitar Hero" players, as it can make the play of the game more immersive.
The iMuffs are wireless headphones for iPods. I tried them on and was surprised how light they felt. The sound was very good, and the headphones stayed on even when I shook my head. As I wrote about before, the buttons on the headset control the iPod. I tested these functions and they worked as advertised. I also met the President & CEO of the company, Mark Pundsack. He was manning the booth and I didn't realize who he was until I took his card. He gave me a 20% off coupon, so if you're interested in a pair of iMuffs, let me know and I'll give you the coupon code.
I had a chance to pick up the MacBook Air. It is amazing how light it is. It really feels like it's full of nothing but air. The specs say 3 pounds, but the weight is so evenly distributed that it feels lighter than that. Until you get your hands on one, it may be difficult to understand the fit and finish of this product. One of my concerns with the Macbook Air will be its durability. Apple reps claim the laptop will be durable. The aluminum they've used does feel very stiff and strong, but only time will tell.
Stay tuned for more reports from Macworld …