Tech Toy of the Month: Apple TV, One Year Later with iTunes Movie Rentals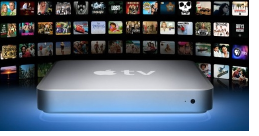 In the first Technology Bytes newsletter, written exactly one year ago, I wrote about the Apple TV. I said at the time that if users could browse and play their DVD collections on the Apple TV it would sell like hotcakes. It turns out that while I may not have been completely correct, I was on the right track. Up until now, the Apple TV has not sold very well. Apple has said that the main reason for this was due to lack of movie support on the Apple TV. Additionally, according to Apple's research, many users wanted the ability to rent movies over the Internet, rather than outright buying them.
Now, with the addition of the iTunes movie rental service and a free software upgrade, the Apple TV is poised to be THE tech toy of the year. Imagine being able to rent a movie from the comfort of your own living room, right from your own TV using a remote control, and being able to watch that movie nearly instantly. That is what the Apple TV and iTunes movie rental service promise to deliver. And while some of you may not be very excited about this, I believe that you will become hooked once you try it out yourself. I predict that within 2 years, people will wonder how they ever got along without the ability to rent movies on-line, just as many people today wonder how they ever got along without a Tivo or DVR.
Some of you may be wondering what type of quality the movies will be. I'm happy to report that you will be able to rent movies in HD quality, along with Dolby Digital 5.1 surround sound. This should provide an impressive experience in any home theater setup.
Along with the ability to rent movies from iTunes, the upgraded Apple TV will also NOT require the use of a computer. Users will still be able to do all the things they could do before, but it is not a requirement to synchronize data from your computer to the Apple TV as it was previously. Because of this, Apple has included additional features that you can do directly from the Apple TV:
– Purchase TV shows, music, and music videos
– View photos from Flickr and .Mac web galleries
– Have direct access to over 125,000 podcasts
The Apple TV is now much more an Internet-enabled device than an accessory to your computer. This means that anyone, regardless of technical skill, will be able to take advantage of the features of the Apple TV. Additionally, Apple has dropped the price of the entry-level Apple TV from $299 to $229. Along with anyone who owns a Mac or PC, now consumers who simply want an "appliance" will be able to use iTunes. This should bode well for iTunes sales and rentals.
Apple originally promised that the Apple TV update would be available 2 weeks after January 15th. That date has come and gone, so expect the update to be available any time. Users who already own the Apple TV will be notified of the update right from their Apple TV. New Apple TV purchases after the update is released should have the update already installed. And don't forget, that the Apple TV really requires that you have an HDTV. While you can buy an adapter for your older TV, I really think you should just put the money towards an HDTV.
As always, if you have any questions about Apple products or home theater, please contact me and I'd be happy to answer them.