Tech Toy of the Month: The Quattro 6000D Sewing Machine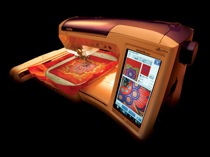 To some people, this month's tech toy may seem like one of the most unlikely combinations of technology out there. But in reality, sewing machines have been getting more and more high tech for quite a while now. However, the Quattro 6000D from Brother is quite unlike any other sewing machine before it.
Not being a seamstress, I don't really know much about what makes a good sewing machine. But this machine does seem to have some impressive features, including a large 4.5 x 7 inch LCD display, a 50 square inch workspace, and embedded runway lighting. This machine is so new that pricing information is hard to find, but it appears to retail for $9000 – $13000. This probably explains why Brother has a special financing deal that lets you pay for this over 36 months.
To find out more about this product, take a look at http://www.brother-usa.com/homesewing/quattro/ and http://www.engadget.com/2008/12/30/the-quattro-6000d-this-aint-your-grandmommas-sewing-machine/
If you have any ideas for future Tech Toys of the Month, send them in today!