Tech Toy of the Month: Bushnell Backtrack Personal Location Finder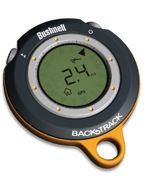 When I saw this gadget listed in a magazine, I knew instantly it would be the next Tech Toy of the Month. I generally look for things that are fairly new, are easy to understand and use, and solve a real-world problem in an elegant way. The Bushnell Backtrack fit all three criteria to a T. If you are an outdoors-person or tend to get easily lost, this device may be a must-have for you.
Basically, the Backtrack is a GPS device that can store up to three locations in its memory. Later, a stored location can be recalled and the distance and direction to that location provided. So simple, yet so useful. For example, if you are camping, it would be very useful to store your base camp in the Backtrack so that you could find your way back if lost. Hikers could mark the beginning of their hike. Hunters could mark where they entered the field. People shopping at a large mall can mark where they parked their car. People on vacation can mark their hotel's location.
The real key for this device is its simplicity, both in usage and form factor. There are many other GPS devices out there that can store locations. However, most of those GPS devices are much more complicated to use and are fairly large. The Backtrack only has a few buttons, is designed to only be a location finder, looks and works for the most part like a compass, and is small enough to keep in a pocket or purse. Additionally, they are reasonably priced, approximately $75 for most models.
I can see that the Backtrack (or copycat devices that will undoubtedly be produced) will likely become a staple at camp sites, hiking trails, and hunting grounds. For their low-cost and usefulness, this type of device alone could result in the safe return of countless people who would have otherwise become lost in the outdoors. Who wouldn't send their kids off to summer camp with one of these devices? Who wouldn't take one themselves when exploring unknown areas, whether wilderness or urban?
So be sure to check out the Bushnell Backtrack and remember where you heard about it first!
If you have any ideas for future Tech Toys of the Month, send them in today!