Tech Toy of the Month: Incase Power Slider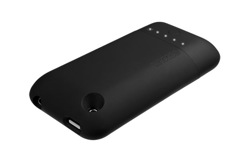 This month's Tech Toy is a pretty simple device, but for the right type of user, it could be incredibly useful. At first glance, the Incase Power Slider seems to be a normal case for an iPhone 3G. Upon closer inspection, it seems a little thicker than most cases. Closer inspection reveals that this case is more than just a case. It is in fact this extra functionality that makes the Power Slider so unique.
The reason the Power Slider is thicker than most cases is because it holds a supplemental battery, in which the manufacturer claims that it more than doubles the battery life of the iPhone 3G. Additionally, the Power Slider allows users to charge and sync the iPhone without needing to remove the iPhone from the case. For users who heavily use their iPhones, the additional battery life could be a godsend. And unlike other supplemental batteries, the convenience of having the battery encased within a fairly slim protective case that also allows charging and syncing can make the Power Slider a great solution.
The Power Slider is an example of the type of accessory that we can carry at The Tech Spot. If this Tech Toy interests you, please contact us so that we can gauge interest. Or if you know any heavy iPhone users, pass this article along. Regardless, we can special order almost any technology product, so please don't hesitate to ask if you need anything.