Tech Toy of the Month: Wii Fit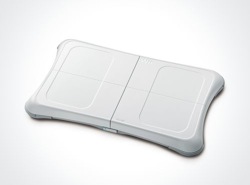 Back in the fall of 2007, I wrote a couple of articles (part 1, part 2) about the Nintendo Wii, where I talked about how the control system of the Wii was the beginning of a new era in physical interaction with computers. Since that time, Nintendo has made improvements to the accuracy of their controllers and has introduced an entirely new device, the Wii Fit. You've likely heard of the Wii Fit – it is already the 5th best selling console video game of all time and it's only a little over a year old!
The simple explanation of the Wii Fit is a video game fitness system. It combines the use of an electronic balance board and the motion-sensitive Wii controllers with video game-based exercises. I'm not going to go into too much detail of the system, as you can get a great overview at http://www.nintendo.com/wiifit/. Basically, you can do simple things like running in place, step aerobics, hula hoop, leg extensions, and push ups. The Wii can calculate how fast you are going or how much effort you are exerting and keep track of this information. However, the system also has more advanced features like Yoga techniques, tightrope walking, skiing, and some other interesting games. In addition, the Wii Fit can measure your weight, calculate your body mass index (BMI), and calculate your center of balance. It uses all this info to determine your "Wii Fit Age", which is a simplified calculation of your overall health.
While certainly the Wii Fit is not a replacement for a traditional exercise program, it can provide a very good workout. The Wii Fit really seems to excel in balancing games and exercises, due to its balance board controller. While balancing may not seem like it would be good exercise, do note that many physical therapists use balance exercises as a core part of their therapies. Having good balance is a lot harder than it seems at first, as it requires strengthening many muscles throughout your body. As with any exercise program, consistency is key. Because the Wii Fit is in your home and is fun and easy to use, people are more likely to use it consistently. Also, by keeping track of progress over time, it can help provide motivation. People can see how far they've come and when they start to slack off. This is especially useful when competing with others in their overall fitness scores. Families can play and exercise together, keeping track of their progress and having a lot of fun doing it.
By combining exercise with fun and motivation, the Wii Fit has become an extraordinarily popular video game unlike any other to date. It seems the Wii Fit has fans in every age category. If you haven't yet tried the Wii Fit, find a friend that has one and give it a try. Just make sure you are dressed appropriately, as you will likely sweat a little (or a lot!).