Tech Toy of the Month: MiFi Mobile Hotspot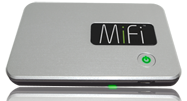 Mobile broadband devices have come a long way in a few short years. At first they required the use of a "PC Card" slot on laptops and only supported certain versions of Windows. Then they started to support more operating systems and eventually were manufactured in USB form, making them more universal. Still, for many users it was limiting to only be able to use one device at a time on mobile broadband connection. And today, many mobile devices, notably the iPod Touch, do not have USB ports. But there is one connectivity option that has become nearly ubiquitous on mobile devices and this is where the MiFi comes into play.
Nearly every laptop and mobile computing device made today comes with Wi-Fi wireless networking capability. The MiFi wireless broadband device takes advantage of this by broadcasting a Wi-Fi signal that any Wi-Fi enabled device can tap into. This makes it very easy to share the wireless broadband connection, as it does not require that users plug the MiFi directly into their mobile devices. In essence, the MiFi is a portable "hotspot", meaning that users can tap into a Wi-Fi Internet connection anywhere they have a cellular wireless signal.
A mobile hotspot is especially useful for those users who want to take advantage the rapidly emerging iPhone platform, but for various reasons are not able to purchase an iPhone. The iPod Touch can perform nearly every major function of the iPhone, including downloading and using the tens of thousands of iPhone apps available today. But the iPod Touch can only connect to the Internet through a Wi-Fi signal, not a cellular signal. For many, the appeal of the iPhone is the ability to access information nearly everywhere, which the iPod Touch simply couldn't do. But with a MiFi device, the iPod Touch can now have access to the Internet nearly everywhere, just like an iPhone.
The MiFi was originally only available for the Sprint and Verizon networks. But recently it has become available for the AT&T and T-Mobile networks as well. So no matter which network you choose to provide your mobile broadband service, you now have a MiFi option available to you. Most providers seem to be pricing the MiFi at about $99 with a two-year commitment, so it is reasonably priced for a mobile broadband device.
Besides iPod Touch users, the MiFi device will be most useful for those who make short, frequent connections to their mobile broadband service. The MiFi can be activated with the push of a button, so instead of physically connecting a protruding USB device to a laptop and then initiating the connection, a simple push will connect the user to the Internet. Claimed battery life is 4 hours while in use and up to 40 hours in standby mode, so it should in theory last most of a day. If you know that you'll be in a relatively stationary area for an extended time, you can plug the MiFi in to charge while using, which will keep it charged for the rest of the day.
If you are in the market for a mobile broadband device, make sure to ask your provider to go over the MiFi option with you. It may be the most convenient, flexible option for your needs.
If you come across an interesting technology product, let me know and I may feature it as a future Tech Toy of the Month!