Tech Toy of the Month: Redbox Video Game Rentals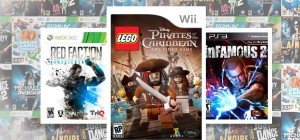 This isn't exactly a Tech Toy … it's like a box full of Tech Toys! Many of you have had the unfortunate experience of your local video rental store closing. If you're like me, the thing we miss the most is the loss of video game rentals. With the ability to rent movies online through services like Netflix or iTunes, we don't need to pick up movie rentals anymore, but video games for our Wii, Playstation, or XBox still need physical discs. The good news is that Redbox has come in to fill the void left by Blockbuster and other stores.
Having completed a pilot test of 5,000 kiosks, Redbox has just recently started renting video games at all of its locations nationwide. For $2 per day, you can pick up games for the Nintendo Wii, Playstation 3, or Microsoft XBox 360. For more information, see this article or Redbox's website.
Remember, $2/day may seem inexpensive, but it can add up quickly if you keep the game too long. Make sure you know what a game would cost both new and used before you rent it from Redbox. It may be less expensive to buy a used copy of a game than to rent it for more than a week! Check out Slackers and Play N Trade as good local sources of used video games.
If you have any questions about new technology devices, feel free to contact me any time!