Technology Spotlight: Pulse News Reader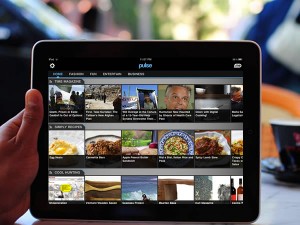 Trying to keep up with the news today is tough! Information moves so fast and there are so many options for getting your news on the Internet that keeping up with what is going on in the world can be a full-time job. I know that just keeping up on the technology industry was using up a lot of my time. I needed something to help me be more efficient. Devices like the iPad are great readers, but it still wasn't quite enough.
So I took the time to research some iPad apps and found a great service called Pulse. Pulse basically aggregates all the news sources that a reader wants, allowing for easy quick browsing of the articles in a simple interface. The news sources can also include Twitter feeds as well as Facebook, Youtube, and other social media platforms. Pulse has been selected as one of 50 apps in Apple's App Store Hall of Fame and named one of TIME's top 50 iPhone apps of 2011
Since I started using Pulse, I am a lot more efficient and can quickly scan through all my favorite news sources on my iPad, choosing to read the ones I am interested in right then. I also have the ability to save articles to my Pulse account. I often do this when I read an article I want to re-read later, and also to have the ability to review all my saved articles on my main computer. If this isn't enough, the app and the service are FREE!
Pulse is available for the iPad, iPhone, and Android devices. For more information on Pulse, check out their web site at http://www.pulse.me