Tech Toy of the Month: Nest Learning Thermostat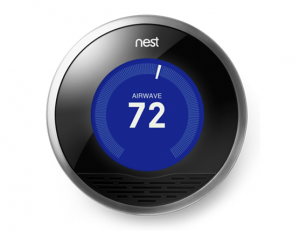 Every so often I see a new technology product that makes me stop and take notice. This month's Tech Toy is one of those products. It's an idea that whose time has finally come and actually gives a tangible benefit to those who use it. Plus it is extremely simple to setup and use and it does most of the work for you. I really think this product is the first of its kind and we will soon see devices like this in almost every home. We've seen "smart" thermostats before, but you've not seen anything like the Nest Learning Thermostat.
Simply put, the Nest is a thermostat that learns your household's lifestyle so that it can save you energy – and money. Additionally, the Nest uses wireless networking so that you can monitor or control your Nest and your home's temperature from anywhere – whether you're in just in another room or around the world. Finally, the Nest allows you to review your home's energy usage so you can understand how to further optimize your energy usage.
The Nest learns your household's lifestyle through the use of various sensors. Using this data, the Nest knows when you are not home and will not run your furnace or air conditioning when you are not there. Additionally the Nest learns your family's schedule to proactively adjust energy usage. The idea is simple: if you are not home, there is no point in using energy to control the temperature. Note that there are settings for "away" and "safety" temperatures where the Nest will kick in to keep the house within a reasonable range while you are gone, so you don't need to worry about your home going into extreme temperatures. Nest claims that 50% of your energy bill is controlled by your thermostat. And the EPA says that a properly programmed thermostat can cut 20% off your heating and cooling bill. Since the Nest can automatically learn your schedule and can automatically adjust when you're not home, the Nest should be able to create significant savings for most homes.
Energy savings is the key feature of the Nest, but almost as important is the ability to remotely monitor and control your home's temperature. We've seen thermostats before that allowed some level of remote control ability, but they were generally very expensive and complicated to setup and maintain. Because the Nest uses standard Wi-Fi to get networked, integration into your home's network is easy. And combined with the use of the Nest apps for smartphone and tablets, remotely monitoring and controlling the Nest thermostat is just as easy. Imagine knowing what the temperature is at your home and being able to adjust your thermostat from anywhere in the world. Well stop imagining because the future is already here with the Nest!
Finally, if you are at all concerned about your home's energy usage, you probably are interested in knowing exactly when your furnace or A/C is running. Previously, this information was almost impossible to get, but according to my friend, who started a new heating installation company in Toronto, the Nest keeps track of exactly when your HVAC system is running. Using this information, you can see reports that detail exactly when your system was running, and cross-reference that with the weather report for your area during that time. For the energy geeks in us, this is highly useful information.
As I mentioned, I was so impressed with the Nest when I first found out about it, that I purchased one for my own use right away. Physical installation was as simple as replacing my existing thermostat with the Nest. With the detailed instructions provided, as well as the instructional videos available on-line, I think most people would be handy enough to install a Nest themselves. But if not, it should not cost very much for a professional to install a Nest. The setup of the Nest was very easy as well and I've been keeping track of the Nest's operation for about two months now. The operation of the Nest is very simple and I am able to see exactly when our system is running. Since I bought it in spring, I will need to watch our bills during the summer to get a real estimate of how well the Nest is saving us money, but I already have a feeling that the Nest is making some difference, especially on those days when we are not home a lot.
When I first found out about the Nest earlier this year, it was still in early distribution and was only available to those who specifically requested one directly from the Nest company. Now the Nest is in full distribution and available online to anyone, but Nest just recently completed a deal with Lowe's to carry them in their stores, so picking one up can be as simple as driving down to your local home improvement company. At $249, it may not be your father's thermostat, but with the rising cost of energy, it is likely the Nest will pay for itself many times over.
If you have any questions about the Nest or any other technologies, please do not hesitate to contact me and I'll be happy to offer my advice!