Tech Toy of the Month: The Leap 3D Motion Sensor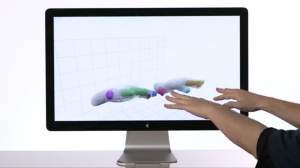 Make sure you read this article in its entirety and view the videos I link to. This technology has huge promise and you should all be aware of it now. Imagine being able to control your computer by waving your hands and fingers out in front of your computer screen. Sounds like something out of the movies, doesn't it? Until now, that was true. But starting early next year, a company is promising to ship a device that will do exactly that.
"The Leap" by the company Leap Motion, is a 3D motion sensing device about the size of flash drive that plugs into nearly any computer with a USB port. Once connected, The Leap will allow a user to control their computer using motions of their hands and fingers. The Leap is sensitive enough to detect individual fingers and track movements down to 1/100th of a millimeter. But words don't really do The Leap justice. It needs to be seen to be fully understood. Luckily, Leap Motion has a nice introductory video that does just that. Plus I also found another demo video that shows The Leap in action.
So take a look and let me know what you think. How do you think you'd make use of The Leap?