Working From Home is All About the Technology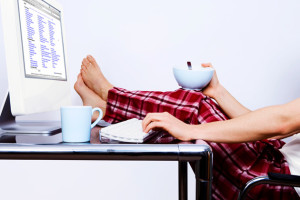 I recently came across an article titled "Six tips on how to work from home successfully". I think it is definitely worth reading if you are one of the following:
An employee who is working from home, considering working from home, or trying to convince their employer to allow them to work from home
A business owner who wants to do more work form home or has employees asking about working from home
Someone who is considering starting a business and needs to decide if they will work from home, set up an office, or do a combination of both
The article basically goes over several things you can do to manage your activities in a way that keeps you productive, keeps you in touch with your co-workers, and makes sure you give the impression that you are actually working. But it does hit upon a couple of technology points which I believe are critical to successfully working from home or creating a work environment where employees can work from home. In fact, working from home is all about the technology.
The article states that one reason for a recent surge in working from home is that new technology makes it possible. But even before The New World of Technology kicked off about 5-6 years ago, the entire ability to work from home was predicated on technology. Without personal computers, cheap phone service, and then the Internet, working from home was near impossible before the 1990's. The key driver now is the fact that new technologies allow even people who work or own small businesses to work from home. Prior to the last few years, working from home was something that only large businesses could support — or people working from home couldn't do the same things that people in the office could.
The article mentions technologies like QuickBase, Dropbox (which I highly recommend), and Skype. Definitely these new technologies make it easier to work from home for those who work small businesses. But there are others as well. And working from "home" doesn't always mean someone in a home office all day. Many people are on the road or away from an office as part of their jobs. Mobile access to data is the key. In order to support mobile data access, your office technology needs to get up to speed. The good news is that new technologies allow you to support mobile data access easily and inexpensively. But you must have a game plan and a basic understanding of the technologies involved.
I believe the ability to work from home is essential to the modern workplace. It can promote happier employees (as well as owners) and ultimately create a more responsive, productive, and profitable company. If you need help understanding the underlying technologies that can foster a remote workforce, please do not hesitate to contact me. I am more than happy to answer any questions you may have or help you implement the technologies your company requires.