Apple Introduces Big Productivity Upgrades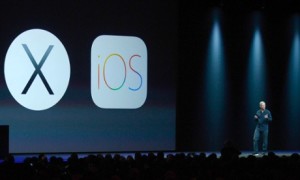 Last week Apple introduced new operating systems for the iPhone and iPad plus their Macintosh computers. As Apple is known for, they had one big keynote address where they demonstrated the major new features of their upcoming operating systems. The new operating system for the iPhone and iPad will be called iOS 8 and the new OS for the Macintosh will be named OS X "Yosemite." Both will be available as free updates sometime this fall. What was interesting about this particular keynote address was the apparent lack of any big announcements. To an average consumer, there did not seem to be anything particularly earth-shattering that came out of Apple last week. However, the relatively understated tone of the keynote masked what I believe to be a very important focus for Apple and one that should have a pretty immediate impact on users.
First off, know that Apple's big keynote speech in the early summer is held at their "World Wide Developer Conference," which is basically Apple's big convention for people who write software. Their keynote audience is comprised of both highly technical developers and average technology enthusiasts. So generally Apple lays out their plan for their upcoming operating systems as well as talking about the underlying technical advancements that developers can use for new and improved software. In years past, it seems that the tech journalists covering Apple conferences have been left underwhelmed. However, after this year's keynote speech it seems that many tech journalists were actually excited about Apple's announcements, even though to an average person they may have seemed relatively ho-hum. This only served to underscore my own observations about Apple's announcements and why they will be so important going forward.
While most of Apple's announcements seemed either minor or of interest only to developers, this is a situation where the whole is greater than the sum of its parts. Without going into a great deal of technical information, Apple seems to have identified that society has become more tech savvy and people are using a variety of devices to get things done. Apple is going to make using all those devices a lot more seamless and natural which I believe will be greatly beneficial to busy people, especially professionals. For example, a user will be able to start an e-mail on their iPhone and seamlessly finish it up on their Macintosh computer. Or vice-versa. They can also throw an iPad into the equation. Apple calls this new focus "continuity." Historically Apple has always been the undisputed master at converging seemingly disparate technologies together so if anyone can make device continuity a reality, it will be Apple. From the demos shown, it seems Apple has already nailed it and we simply need to wait until the new operating systems are available this fall.
Here are a few other nuggets of new Apple tech that I think will be highly important to busy people and professionals:
– Apple introduced MailDrop, a technology that will allow a much easier method to send encrypted attachments over e-mail. The lack of an easy-to-use encrypted e-mail system has been a real thorn for many of my clients and this could be a real game changer.
– While current iPhone owners who also own a Macintosh computer have been able to seamlessly carry on iMessage conversations on either device, they could not do so with SMS text messages. They will be able to do so with the new operating systems this fall. The ability to carry on texting conversations at one's computer is a real time saver. Once people see just how amazing this feature is, I think it will be a real competitive advantage for Apple.
– Similarly, users with a Macintosh computer will be able to manage phone calling from their iPhone. This will be true if the iPhone is next to them or across the room. Macintosh users will be able to identify incoming callers on their computer screen, initiate phone calls from their computer, and use their computer as a speakerphone (or use headsets). For those people who do a lot of work at their computer, these telephony integration features can also be a huge time saver.
– Apple has finally embraced a technology that has been languishing in the marketplace for years. "Wi-Fi Calling" is a technology that allows a cell phone to tap into a Wi-Fi network to make phone calls when the cellular signal is weak. While there are some ways to do similar things now, none are as slick or simple as Wi-Fi Calling. This technology requires both device manufacturers and wireless carriers to support it. There have been a few Android phones that feature Wi-Fi Calling, but so far only T-Mobile and Sprint have provided lukewarm support. Now that Apple has thrown their weight behind it, expect all the major carriers to fully embrace this technology, which should be a boon to users that have weak cellular signals inside their homes or offices.
The development of these technologies, along with some others I have not touched on, show a new focus on Apple's part to bring a much needed advancement in the way people are using their technology. No other technology manufacturers can come close to the level of seamless integration between mobile devices and desktop/laptop computers that Apple is deploying this fall. Given that no other companies have the ability to leverage technologies across disparate systems like Apple does, I don't expect this gap to close in the near future. I believe that it is becoming very clear that Apple is positioning their products as the go-to devices for those who are serious about maximizing their productivity. While the old perception (an incorrect perception, but a common one nonetheless) was that Apple products were for "creatives" or just consumers, I believe that business people and professionals who ignore Apple's products going forward will be doing themselves a great disservice.