I Know You're Not Using Handsfree While Driving! Review of Plantronics Voyager Legend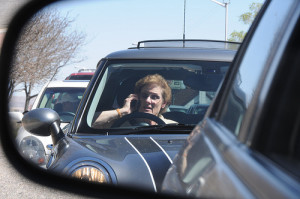 I can see you! Yeah, you in the car! You're holding up your cellphone to your ear while driving! In the State of Illinois where I live, this was made illegal at the first of the year. Yet you're still doing it. If I'm seeing you do it, you can be sure the police can see you as well. Enforcement has started in earnest and it's a easy ticket to write. I personally know some people that have been recently cited for it. The sad part is that for the cost of the ticket, they could have purchased a handsfree device and avoided the hassle. So here is my gentle reminder to you – get a handsfree device before you get pulled over. Besides, it really is safer because I know some of you have trouble driving even with both hands on the wheel!
To help you out, please review the article I wrote earlier in the year about choosing a handsfree device. But as an update to that article, I wanted to share with you a review of my new handsfree device. I've been using it about 6 weeks now so I think I have a very good handle on it.
My previous Bluetooth headset was a Jawbone Era. Overall it worked well enough, but I was becoming irritated with a few quirks of the device when using it with my iPhone. They were infrequent enough that I wasn't exactly in the market for a new headset, but I had found one in my normal course of technology research that seemed promising. When I found out that Best Buy had a sale running on that particular unit, I went ahead and jumped at the opportunity to get one.
The Plantronics Voyager Legend is an over-the-ear style headset. I tend to like over-the-ear headsets, but I know some others don't. Still, even if you haven't been a fan of over-the-ear styles before, I would suggest that you give the Voyager Legend a try before you dismiss it. The reason I like the over-the-ear style is because these devices tend to stay put on my ear better. With the Voyager Legend, the weight is so evenly distributed that I have often forgot it was on. Sometimes I even forget that I have taken it off, which is a weird phenomenon, but I attribute it to the fact it is so comfortable that my body can't really tell the difference when it is on or off. Also, the way the device is designed, most of the bulk is in the part of the device behind the ear. There is only a thin microphone that extends from your ear, so overall I think the device is quite understated. In other words, you don't look like a Borg while wearing it as some Bluetooth headsets might tend towards.
That being said, what really matters with a Bluetooth headset is the sound quality of the call. The biggest critic I know is my wife, whom I tend to talk to quite frequently over the phone. She immediately said the Voyager Legend did a much better job of reducing ambient noise. In fact, I can have the windows of my car rolled down some and she can't hear it, even at highway speeds. About the only problem with the noise reduction is wind is blowing directly on the headset. Unfortunately direct wind noise is something that  no headset seems to be able to deal well with. Also, the Voyager Legend seems to pick up the sounds from something like a Radar detector, which drives my wife crazy. Other than those quirks, the sound quality seems to be excellent, as the callers on the other end can hear me clearly and distinctly with virtually no background noise. As I said in my previous article, this is extremely important to me since I use my phone for business.
The "quirks" that I had endured with the Jawbone Era I'm thankful to say do not exist with the Voyager Legend. The biggest thing that was a problem was that the Jawbone Era would at times "flake out" when making or answering a call. In other words, I would make a call or answer my phone, but the sound didn't work. So I didn't know that someone else had picked up the call I made or I wouldn't hear anybody on the other end. Similarly, it would seem that on occasion I could hear someone but the other person couldn't hear me. I had to shut off my Jawbone Era and turn it back on to fix the problem. This was obviously not cool when I was driving. Additionally, there were times where the caller on the other end could hear me, but the sound quality was very garbled. This was especially true in my home office, where I have been spending more time lately working on Web Site projects. That area of my house unfortunately has low cell phone coverage and somehow that seemed to affect the performance of the Jawbone Era. I have not experienced these problems with my new Voyager Legend. About the only quirk I have experienced is that occasionally if I hold down the button on the headset to give voice commands to my iPhone, the Voyager Legend doesn't always activate Siri. It has only happened a few times and it isn't enough of a problem to be a big nuisance.
A couple of nice features about the Voyager Legend that I like is that I can answer a call by simply saying "answer" or ignore the call by saying "ignore". This feature so far has worked flawlessly for me. Also, if you are not wearing the headset when a call comes in, simply putting it on automatically answers the call. That is a nice feature that I've found convenient. The battery life is also excellent, as it features 7 hours of talk time. For my usage, I can forget to charge the Voyager Legend for a day or two and still have enough battery life to make it through a third day. The magnetic charger included with the headset is a nice touch, although I don't find it as secure fitting as say the Apple Magsafe or even the magnetic chargers that came with some older Jawbone models.
Normally the Plantronics Voyager Legend is $99. However, I found it on sale for $79 at Best Buy when I bought it. Regardless $99 is actually a good price for a Bluetooth Headset of this quality, as many comparable models go up to $120 or even $150. Beyond my personal experience, the headset has been well-reviewed by many other sources. So I wouldn't hesitate to recommend it for purchase, especially if one can find a good sale on it. As usual with any Bluetooth headset, make sure you purchase it from a retailer that offers a liberal return policy in case the headset just doesn't quite work for you.
Are you still ducking the new handsfree laws? What are your favorite handsfree devices?