AT&T GigaPower Service Looks Good But Has Strings Attached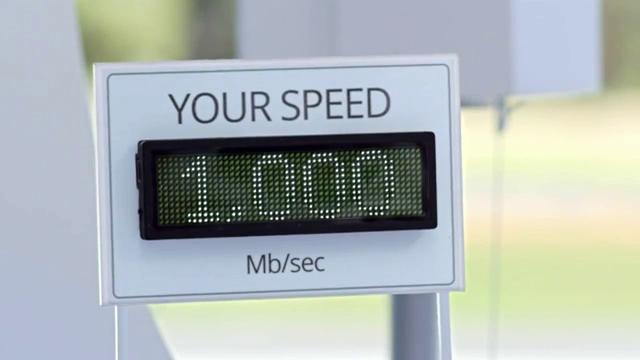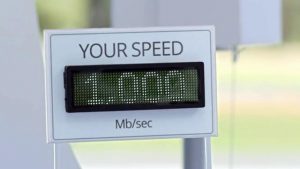 I recently noticed that signs for the new AT&T Gigapower service had popped up in a subdivision near where I live. Simply put, GigaPower is the brand name for AT&T's new gigabit fiber Internet service. Yes, that is 1 Gbps or 1000 Mbps service! In this area, 100 Mbps is tops for residential service and around 200 Mbps is tops for reasonably affordable commercial service (you can currently pay big bucks for fiber service in our area, but that is usually not something most want to pay for). Needless to say, gigabit service would completely change the game in our area when it comes to Internet service. So I started researching AT&T's GigaPower service to learn more and I found both good news and … let's say "questionable" news.
Let's start with the good news. AT&T is offering unbundled 1 Gbps service for $90/month. Now that is certainly higher than most Internet services in our area, but for 1 Gbps service, it is extremely reasonable. Installation and monthly equipment fees are "waived," as I would expect, since most people don't like paying for installation or equipment. To be fair, this pricing requires a 12-month commitment, but a one year agreement really isn't out of line here so that's not unreasonable in my opinion. Finally, 1 Gbps is the "maximum network service capability," and "actual customer speeds may vary." So it will be interesting to see if customers actually get anywhere close to 1 Gbps service, which will be difficult to measure since few services on the Internet could possibly push 1 Gbps of data to an end-user. Still, even if real throughput is only half (which wouldn't be acceptable but I'm just using it as a frame of reference), 500 Mbps would still be mind-blowinginly fast!

So that's the good news. Now for the strings. First, AT&T caps GigaPower service Internet usage to 1 TB of data per month and would charge you $10 for each additional 150 GB over 1 TB (up to $100). If you so choose, you can pay an extra $30/month and get an unlimited data allowance or if you bundle U-verse TV service with GigaPower Internet you also get an unlimited data allowance (this bundle requires a 2-year agreement). Now granted, 1TB is an incredible amount of data. So likely most people would not hit that cap. However, people who are willing to pay $90/month for gigabit speed Internet might just be the type of people to eat up that much data, especially if they are cord-cutters and stream a lot of video. Now all that being said, AT&T has announced they will be increasing Internet data caps across all of their services beginning August 21st, 2016. GigaPower users will be allowed unlimited data usage beginning on that date which would eliminate the data cap issues I just wrote about, but at the time of this writing, the 1 TB data cap still exists.
The far more potentially onerous gotcha with AT&T's GigaPower service is their requirement that you opt-in to a service called "AT&T Internet Preferences." This service basically allows AT&T to track your web browsing information and target ads according to your interests. If you choose not to participate in AT&T Internet Preferences you will be charged an additional $29/month for your GigaPower Internet service. Now to many people, assuming they even realize what they are opting-in to, this may sound like an invasion of privacy. But it may not be quite so bad. Like most companies, AT&T promises to never sell your personal information to any other companies so really it is just an ad targeting service. If you've ever noticed ads popping up for things you were shopping for recently, you already probably get targeted ads when you surf today from Google, Facebook, and other such companies. I personally do not have a problem with targeted ads because I'd much rather see ads that interest me instead of blanket untargeted promotions. This is probably because I'm fairly confident that the technology used does not gather personal information so I feel fairly safe. Yet I think it does set a questionable precedent that your Internet provider will basically charge you if you do not participate in their ad targeting service. Sure, they call it a "discount" but let's get real. I'd much rather see the "actual" price of the service and then be given the option to discount it if I so choose, instead of being baited with a lower price and then be told that the true price is higher if I don't choose to participate in an ad targeting service. I have a feeling AT&T will get a lot of pushback from customers as GigaPower begins to see broader deployment, but time will tell. Obviously if you do not like the way AT&T promotes their GigaPower service you must complain so they will get the message.
The final string attached to AT&T's GigaPower offering is that service areas are very limited – and I do mean VERY limited. From what I've read, AT&T is currently only deploying GigaPower to neighborhoods and subdivisions that are already wired with fiber infrastructure. Primarily these are fairly new subdivisions ( According to some key Perth electrical contractors, they are likely around 10 years old, maybe 15 years on the outside) within certain communities so it is very possible that one neighborhood will get GigaPower service while the next neighborhood over will not. Since many subdivisions do not have fiber infrastructure, they will likely not get GigaPower service for a long time. When I say "long time" it may literally be several years or longer because the cost of laying fiber in a neighborhood is significant. AT&T at this time wants to get to the low-hanging fruit of areas that already have fiber before they invest the capital to lay it in other areas to deploy their GigaPower service. So if you live in a newer subdivision and you are getting GigaPower service, feel free to get excited. However, if you live in an older area, don't expect to see this service any time soon so temper your expectations. Just because your friends in town are getting GigaPower, doesn't mean the whole town (or even a good fraction) will be getting it soon. Now that being said, competition from other companies may introduce gigabit services to certain areas so gigabit Internet speeds may still become a reality even if AT&T isn't providing it.
If you are in an area that has or are getting AT&T GigaPower (or another gigabit service), please comment below if you are planning on getting the service or if you already have it and what your impressions are. Do note that if you are going to get gigabit service of any kind, you must make sure your router can handle the extremely high speeds or else you won't be getting the full benefit of the service you are paying for. At this time with the limited deployment of gigabit services, there is not a lot of information regarding routers that can truly handle gigabit throughput, so shop carefully.