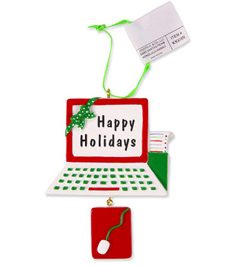 For the 11th installment of my Holiday Tech Toys article, smart home technology continues to be hot. In addition to home automation technologies, I also included a variety of gadgets for use around the house as well. Technology continues to get more personal it seems, which can make gift buying easier but the increasing variety of options can make technology purchasing more confusing! Hopefully these Holiday Tech Toys will give you some ideas for that technology buff in your life!
Wyze Cam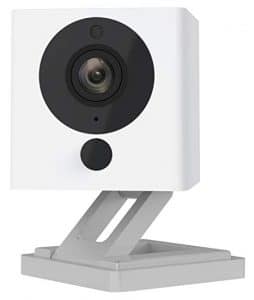 Internet-connected security cameras are a hot item. Unfortunately, for many people the price tags are too high. Enter the Wyze Cam. For $20, this camera can do almost anything that cameras priced 5 to 10 times as much can do, such as night vision and 2-way audio. While it is not perfect and does not integrate with all major home automation platforms, for the price it is hard to beat for the basic functionality that a Internet security camera should provide.
Apple iPad
It is hard to believe the Apple iPad has been around for almost 9 years now. The device that ended the PC era is almost a decade old, yet it still sets the bar that other tablets aspire to. But who are we kidding … there is barely a tablet market outside of the iPad. The iPad is priced lower than it has ever been, starting at $329 for a 9.7 inch 32 GB model. A lot of people have held on to the first iPad they ever purchased, so this may be the year to give them an upgraded model. Make sure to check out the more powerful, larger, but also more expensive iPad Pro models as well. But do note that all iPad models (except the iPad Mini) are now compatible with the Apple Pencil, not just the iPad Pro models.
June Oven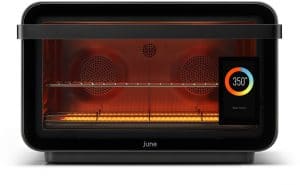 The June Oven claims to be 7 appliances in one: convection oven, air fryer, dehydrator, slow cooker, broiler, toaster, and warming drawer. But this oven is also Wi-Fi connected and can be controlled by a touch screen or your smart phone. You can adjust the oven settings, watch live video of your food, and be notified when the food is ready. Pre-developed cook programs allows the June Oven to cook anything with little human intervention, up to something the size of a 12-pound turkey. It even claims that the internal camera will recognize your food and automatically cook it for you. That sounds like something out of the Jetsons to me. Now if we only had cars that would fold up into a briefcase …

ThermoWorks Thermapens
Continuing the cooking theme, the ThermoWorks Thermapen is a line of digital food thermometers that can accurately and quickly measure the temperature of food during preparation. It works on meats, fish, casseroles, re-heated foods, breads, cakes, deep frying and candy. If the June Oven is perhaps a little too much to give as a gift to your foodie friends, perhaps a Thermapen would be perfect.
Roku Express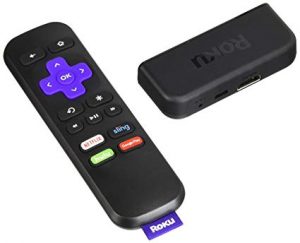 One of the most common questions I get asked is what device should one use to watch streaming video services on an actual TV set. The major contenders are the various models of Amazon Firestick, Google Chromecast, Apple TV, and Roku. While my personal favorite is the Apple TV, a lot of people are looking for a lower priced option. For low cost and simplicity, it is hard to beat the Roku Express. For under $30, the Roku Express works with all the major steaming services (such as Netflix and Hulu) and provides 1080p resolution. It is certainly not a perfect device and more expensive Roku devices provide features such as 4K Ultra HD resolution, but considering the price, the Roku Express is a great gift for those who want to try streaming video. If you are giving it as a gift, try to verify that the person receiving the gift does not have a 4K TV or doesn't plan to get one soon. I'd recommend a different Roku such as the Roku Streaming Stick+ or Roku Premiere for 4K TVs.

Apple iPhone
The original modern smartphone, the Apple iPhone is still the cream of the crop when it comes to ease of use and reliability. The various iPhone X models (last year's X, and this year's XS, XS Max, and XR) are among the most popular Apple has ever sold and the technology in these devices are impressive even to a jaded technology expert like myself. If you are looking to give an iPhone as a gift, make sure to purchase one of this year's model phones. The lower-cost XR model appears to be selling very well and is a very attractive option to those who want a top-of-the-line iPhone but are willing to save some money in exchange for a screen that uses previous generation technology. Not to say that the screen of the XR model is sub-par, it simply isn't the cutting edge in screen technology available today. But for many people, they may hardly notice the difference. Also interesting is that the XR model has a slightly larger screen size than the flagship XS model (but smaller than the XS Max).
Belkin Boost Up Qi Wireless Charging Pad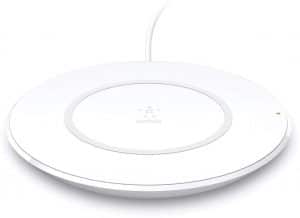 Speaking of the Apple iPhone, one of the features of the iPhone 8 and X series is wireless charging. With a compatible wireless charger, one can charge an iPhone 8 or X series simply by laying it on top of the charger. There are many choices for wireless charging pads, so to make it simple, the Belkin Boost Up Qi Wireless Charging Pad 7.5W is a low-cost option from a trusted brand name. It is optimized for iPhones to support Apple's "fast charge" feature for quicker charging, but it will work with any Qi-enabled device from Samsung, LG, Sony, and others at normal charging rate. If you have a Samsung phone, you can get the Samsung optimized Belkin Boost Up Qi Wireless Charging Pad version to support its particular fast charge feature, but it is a little more expensive.
Philips Hue White A19
Back to the home automation theme, remotely controlling lights is one of the most popular home automation tasks. The Philips Hue is one of the most popular lines of "smart light bulbs" and the A19 is the most popular/well-known form factors of light bulbs. Currently selling for about $40 for a 4-pack, at $10/bulb the Philips Hue White A19 is a great way to turn regular lamps into devices that can be controlled with any of the major home automation platforms (Apple HomeKit, Amazon Alexa, and Google Assistant). Very important for many people, these bulbs can be set to a variety of shades (warm to cool white) and can also be dimmed. Do note that some features require a Philips Hue Hub device, sold separately.
SENSO Bluetooth Headphones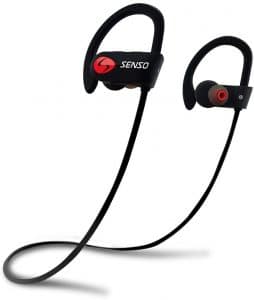 Bluetooth headphones have become very popular recently, although the price of many of these devices has not been so popular. Many who desire wireless headphones are people who would use them during a variety of workouts, so their ability to stay secure in the ears while moving and sweating is important. Luckily, the SENSO Bluetooth Headphones are inexpensive, sweatproof, and has many great reviews testifying to stay in place during workouts. This may be a great gift for those workout warriors in your life.
Uvex Skyper Blue Light Blocking Computer Glasses
Finally, one issue with technology usage that has received a lot of coverage in the last few years is the possibility that blue light emanating from screens can be harmful to one's sleep quality. Many manufacturers of devices now include a "night mode" that changes the color of the light coming from the screen to reduce the amount of blue being seen by the user. But not all devices have this feature so if you are concerned about the amount of blue light you or your loved ones are being exposed to at night, a simple pair of glasses that blocks blue light may be the solution. A very popular and low-cost option is the Uvex Skyper Blue Light Blocking Computer Glasses available from Amazon.