Time to Buy a Smart Thermostat!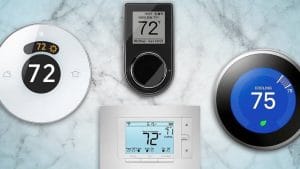 As we ramp up into the summer season, the time is right to think about saving money through the use of smart thermostat technologies. Many people are familiar with the Nest, but devices from Ecobee, Honeywell, and others are making a name for themselves as well.
At the time of this writing, there are sales available for many smart thermostats. For example, the high-end Nest and Ecobee devices are about $250 retail, but both currently are selling for $50 off at stores online as well as brick-and-mortar stores such as Best Buy, Home Depot, and Lowes. That's 20% off, but many utility companies are also offering rebates when purchasing a smart thermostat. For example, where I live in Illinois, the local utility Ameren is offering a $100 rebate when when purchasing a qualifying smart thermostat. Combining the sale and the rebate nets 60% off! I know there are similar rebates available in Missouri and possibly other states as well. If you have considered a smart thermostat, now is a great time to buy. I know the Illinois rebate is only good through the end of 2019, so I would venture that many other state rebates are similar.
I've used a Nest since it originally was introduced and it is a good quality product. However, newer generations of smart thermostats offer improved features and functions. For example, certain models can work with remote sensors that allow for better tracking of the temperature across an entire home, rather than just near the actual thermostat. However, the Ecobee remote sensors also track motion and occupancy of rooms, which then allows for more fine-grained and energy saving management of the temperature in a building. Additionally, the Ecobee and certain Honeywell devices are compatible with Apple's HomeKit smarthome platform, which makes them better integrated with Apple iPhones, iPads, and Mac computers.
If you have any questions about smart devices such as thermostats, or if you want to find out other ways to save money on your energy bill, please feel free to contact me!