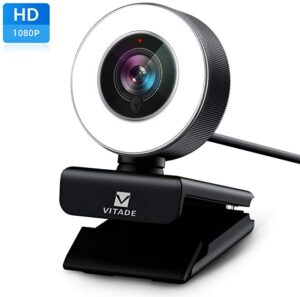 In this year of working and schooling remotely, the demand for webcams have caused supply to become scarce. Most of the reasonably priced devices from well-known brand names such as Logitech have been constantly going out of stock since March. Therefore, people who need a webcam are forced to resort to lesser-known brands. Having been asked recently to research a webcam, I found a good one on Amazon that had good specifications, was highly rated, and offered some good features at a reasonable price. I was so impressed that I went ahead and ordered one to test myself.
After testing it for a couple of weeks on a variety of Zoom calls, including one where I was a presenter for an international summit for entrepreneurs, I am happy to report that this webcam works well and is simple to use. At less than $70, this webcam includes 1080p resolution, a built-in ring light with 3 brightness levels, and works with Macintosh, Windows, and even Linux computers. It mounts to a monitor as most webcams do and feels very stable to me. It also includes a universal mount point for attachments to tripods.
If you are interested in this webcam, here is the Amazon link! If you order one, please comment and let me know your experience with it.