Save Your Technology From Spring's Wrath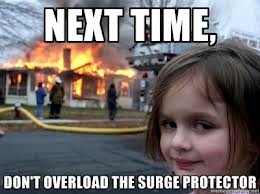 About four years ago I wrote an article about how I warn my clients each year to protect their technology from the storms that inevitably happen every spring and summer. In that article I mentioned how most of the time the advice goes unheeded and people unfortunately suffer damage and even data loss because their equipment was not properly protected. Since that time, the same pattern has continued and people still spend needless amounts of money fixing or replacing equipment that has been damaged by electrical events such as power surges or lightning strikes. I thought about this recently as it feels like spring is coming early this year (the temperatures this weekend in my area are forecasted to be in the low 70's!). If spring is coming early, that means that storms are coming early, which means that everyone needs to review how their technology is protected as soon as possible.
The mistake most people make is that they believe that simple surge protection is enough to protect their computer technology. While very good surge protectors can protect equipment from power surges or a lightning strike, most power events are not this drastic. The most common form of power problem involve small over or under-voltages, which while not as immediately damaging to technology equipment, it can nevertheless cause equipment to malfunction or shut down. Over time these events can damage equipment and simple surge protectors are not capable of protecting technology devices from these types of power issues. On top of that, most people do not purchase high quality surge protectors and this only becomes evident after their equipment has been harmed by a more serious power event.
The answer is complete power protection from devices called uninterruptible power supplies (UPS) or "battery backups." These devices not only protect from power surges and spikes, but also condition the power arriving at your equipment so that small variations in voltage do not cause your equipment to malfunction. They also kick in if a complete power outage occurs so that your technology can keep running through short power outages or can give you enough time to properly shut down sensitive equipment like computers and servers. I recommend setting up UPS units on any device that uses a hard drive (or solid state drive) such as computers, DVRs, external storage devices, etc., plus any networking equipment such as your modem, router, and any network switches you may have. This will effectively protect the devices that are most sensitive to power problems and ensure your network connections remain as stable as possible. Battery backups come in different capacities as far as how much load they can handle and should be matched to the load they are protecting. Networking equipment generally uses little power so there is not much need to spend a lot of money on a larger capacity UPS device for networking equipment unless you are also plugging in a computer or two as well. Consult with a qualified technology professional if you are unsure what to purchase.
If you are wise enough to already protect your equipment with battery backups, you still need to review your units periodically as the original batteries tend to only last around 3-4 years before they need to be replaced. If the batteries in your UPS units are no longer functioning, the devices are not properly protecting your equipment. The good news is that the batteries can often be replaced economically, if you know where to find good deals. There are a few local providers of batteries that provide reasonable pricing on replacement batteries, but sometimes it makes more sense to purchase a new replacement unit. Please talk to a trusted technology expert like myself if you have any questions about your power protection strategy.