Surge Protectors vs Power Strips
In my last article I wrote about spring coming early and the related storms that inevitably come with the spring season. I mentioned that most people do not pay much attention to the type of surge protector they purchase. In fact, many times I get questions about "power strips," which are not necessarily surge protectors at all! So in this article I wanted to point out specifically the difference between a power strip and a surge protector, plus also show the potential differences in surge protection capabilities.
In general a power strip is nothing more than a way to add additional power outlets to a wall socket. They should generally be labeled as power "strips" or "taps" as compared to "surge protector." However, this distinction can be missed because in general they look very similar. For example, in the pictures to the right, if one weren't to look at the packaging, it would be easy to miss that one is merely a power tap while the other is a true surge protector. As you will also notice, the surge protector is over twice the price.
Going further, the common form factor of the "strip" shaped surge protector makes many people think that all strips are surge protectors.
But as these pictures show, a simple power strip is just that and a true surge protector will be labeled as such. In fact, the back of the packaging of the power strip explicitly states that it is not a surge suppressor. So please make sure to read the packaging when buying a surge protector to ensure you're buying something that will actually protect against surges.
Now I think most people can understand the difference between a strip or tap and an actual surge protector if the device is still in its packaging. However, what about identifying a surge protector when the device is no longer in the package? At that point the device itself should have some sort of labeling indicating if it is a surge protector and the level of protection it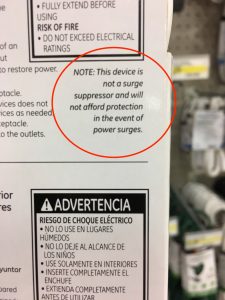 affords. But a quick way to determine many surge protectors will be the inclusion of a light that indicates if the surge protector is still functional, usually labeled "protected" or something similar, as a couple of the surge protectors in the above pictures show.
Speaking of the level of protection, surge protectors are usually rated by a number of Joules, as you may notice in the pictures above. This is basically a measure of how much energy a surge protector can absorb before it should be replaced. The higher the better, but if you are protecting a valuable piece of equipment, you may want to investigate specs like clamping voltage and response time. Finally, the indicator light is important because all surge protectors will eventually stop working if they absorb a few big surges. It is a good idea to periodically check all your surge protectors to ensure they are still protecting your equipment and the indicator light makes this easy.
Please do not hesitate to ask me for help if you would like more advice about protecting your valuable equipment from power related events. Just a little investment into a good surge protector can save you thousands of dollars later.