Live TV Streaming Services Making Waves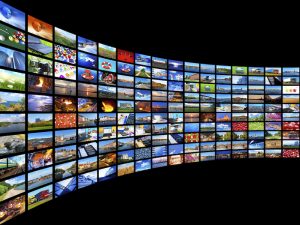 In recent months, a variety of new and expanded services have emerged that offer traditional cable and satellite TV channels as streaming options over the Internet. With some services also offering local traditional broadcast channels as well, suddenly this new generation of streaming services are encroaching into the cable and satellite market, making "cutting the cord," as it is popularly known, a more realistic option for people looking to reduce their TV subscription costs.
What exactly makes these new streaming services so attractive? Besides the obvious fact that TV channels previously only available through a cable or satellite TV provider are suddenly available for viewing on a variety of Internet-enabled devices, the key factor is sports. This issue has been near and dear to my heart for a few years now, and through my research I learned that I was not alone in this. The lack of live sports on streaming services has made cutting the cord difficult for many people up to this point.
To use me as the example, the sporting events that I mostly watch (Cardinals baseball and Blues hockey), are primarily available on Fox Sports Midwest (with a smattering of hockey games on NBC Sports Channel, plus some sporting events on ESPN, etc.). Without this channel as a streaming option, I had to subscribe to a cable or satellite TV provider in order to watch the games I wanted. Now, I have the option to subscribe to a streaming service that offers live TV channels such as Fox Sports Midwest (in my region) and let go of my cable subscription. So yay! I'm ecstatic at the thought!
Examples of some of these new "live TV" streaming services include Sling TV from Dish Network (they run a lot of commercials), DirecTV Now from AT&T (they've recently started running commercials), PlayStation Vue, YouTube TV, and the most recent entry is Hulu with Live TV. In fact it was the new Hulu with Live TV that made me really take notice. I had been considering trying out the Sling TV service, but as attractive as their pricing appears at first ($20/month for their "Sling Orange" package and $25/month for their "Sling Blue" package), in order to cover my sporting needs, I would need to get both packages as some sports channels are only offered on one of the packages. So the total cost would be $45/month, which is a little higher than what I'd like to spend. In addition, a nice option of a "Cloud DVR," which would let you record shows for later viewing and store them online is an additional $5/month. So now we're at $50 a month and for those who want to cut the cord, this pricing level is starting to get out of hand.
When I found out about the Hulu with Live TV service that was just recently released into "beta" in May, it intrigued me. At first glance the cost is higher than a Sling TV package, starting at $39.99/month (or $44.99 if you want the commercial free option – which I want). However, with this one package all the sports channels I want are included, as well as a nice selection of other TV channels that I have an interest in such as the History Channel, Food Network, and National Geographic among others. In addition, Hulu also includes a Cloud DVR option at no additional cost. Finally, Hulu with Live TV also includes some local TV stations as well. In some markets, all the major networks (ABC, CBS, Fox, NBC) are covered. In my market of St. Louis, only the CBS and Fox affiliates are currently included, but from what I've read, Hulu plans to offer all network affiliates in all markets as negotiations are completed over time. I like this feature because as far as streaming services have come, it is still nice to be able to watch certain network TV shows live and/or record them for viewing a short time later (most show episodes that are available on a streaming service are not available until the next day). Up until this time, a cord-cutter's only options for getting local channels without a cable or satellite service were antenna-based devices and services that while functional, were often tricky to set up (antennas can be a pain) or required additional monthly costs for full functionality (such as expanded guides).
So all that being said, the monthly cost of $44.99 is still a little high according to my own criteria. However, here's the kicker: I'm already paying $11.99 for the standard Hulu streaming service now. So if we account for that cost already, I will only be paying an additional $33/month to get not only all my sports options, but also a nice selection of TV channels that I like plus local stations that will allow me to eliminate messing with my antenna-based Tablo device (as soon as we get our local ABC and NBC affiliate as part of the service). For the entire package, this seems like quite a reasonable price and I still get access to the Hulu streaming library that I had before. Plus I can drop my cable TV package that is about twice the cost currently and has a horrible DVR (yes, I'm looking at you, Charter). So look for me to provide a review of Hulu's new Live TV service very soon, as I am literally signing up for the service this weekend!
As for which service you should choose, I'll link you to an article that does a very good job of comparing the different live TV streaming services and explaining which ones offer the best options depending on your needs. However, the speed in which these services are evolving is quite fast. If you are reading this article even just a few months from when I posted it (July 2017) then there is a good chance that competition has prompted some of the providers to improve their offerings and/or lower their prices. So make sure to review your options before making a choice.
If you have any questions about streaming services or any technology topic, please feel free to ask me on my Question and Answer section of my web site!