Posts Tagged 'holiday tech toys 2016'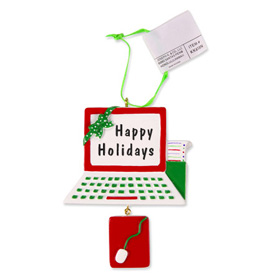 2016 has certainly been an interesting year to say the least. I think many people are looking forward to the holiday break but first we all must get some gift shopping done. In order to help all of you make good technology gifting decisions, I present to you my 9th Annual Holiday Tech Toys list. This year I've tried to present a list of lower-cost items that are still great tech gifts and some can even work as stocking stuffers. Make sure to take a look at Holiday Tech Toys from years past as there are likely still many gifts that could still be good choices for this year.
iHome SmartPlug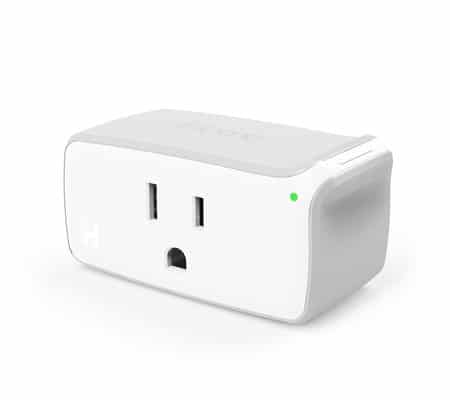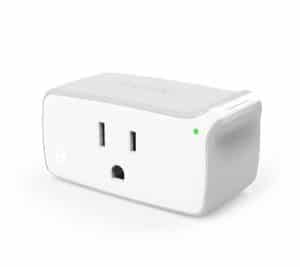 I've been following home automation technology for a long time. Besides being expensive, the main problem in years past has been that most home automation devices were difficult to understand and devices from different companies rarely worked well together. Anyone who wanted to go beyond simple automation had to be highly technical or pay someone a good chunk of money to set up highly complicated systems. The good news is that in the last few years various companies such as Apple with their HomeKit platform, Google with their Nest platform, and handful of others including Amazon's Alexa are bridging together formerly disparate home automation technologies into cohesive and simpler to use units. Unfortunately many home automation technologies are still a bit pricey. However I did find one inexpensive home automation device that can easily automate many electronics such as lamps and small appliances. The iHome SmartPlug iSP5 requires nothing more than a smartphone and Wi-Fi network to function. I've found it as low as $29 at Home Depot and it I've purchased several for my home over the last year. My family and I can control the attached devices with a simple app on our iPhones or by using Siri voice commands. Because I did not need to buy a "hub" or other proprietary controlling device, this makes setup very simple and less expensive. Another great thing about the iHome SmartPlug is that it works with virtually every current home automation platform. Note that the iSP5 model may be getting low on stock as the replacement iSP6 model begins to enter the market. The iSP6 is about $10 more expensive on average than the iSP5, but I expect that this price will drop over time.
Small Flying Drones
Flying drones have been a popular, albeit expensive, tech toy over the last few years. However, I am now starting to see small drones that are much less expensive, yet still have some of the capabilities that have made flying drones so popular. A quick search around a store like Best Buy will show many drones now under $200, with several under $150 and $100. If you're looking for more of a "toy" flying drone, there are now many under $50, although you will sacrifice some features that more "serious" drones offer. Still, for under $50, it could be a great way to find out if you or your family have a real interest in pursuing the larger, more expensive flying drones.
NES Classic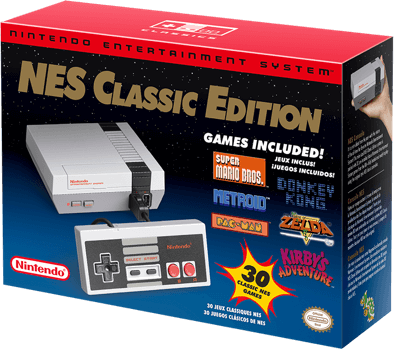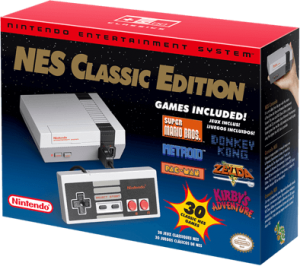 Those of us who know (or remember) video game history will say that the Atari 2600 was the first popular home console system. But we also know that it was the original Nintendo Entertainment System (NES) that really brought home video gaming into the mainstream and we have never looked back. Now those us of that want a simple way to play several of the most popular NES games on our new-fangled HDTVs have an option in the new NES Classic mini-console. At $60, it is a miniaturized version of the original NES system with 30 built-in games, plus an HDMI port. Unfortunately, at the time of writing, it seems the NES Classic is so sought-after that it is out of stock almost everywhere. So if the NES Classic is on your shopping list, then keep your eyes peeled for any that might sneak into availability at your local stores.
Small Automated Robots
It seems that just as small flying drones are popular, small automated robots are also becoming very popular. One example of such a tech toy is the Sphero BB-8 App-Enabled Droid. This is a very small replica of the character from the movie Star Wars: The Force Awakens. However, it can be controlled by a smartphone and can also run autonomously. It is normally $150, but it was on sale for less than $100 recently so I would not doubt if that price point can be found again soon. Other similar robots allow the owner to actually program them, like the Wonder Workshop Dash. This type of robot might be more educational but either tech toy should satisfy a little one who is into robots and automation.
Car Dash Cameras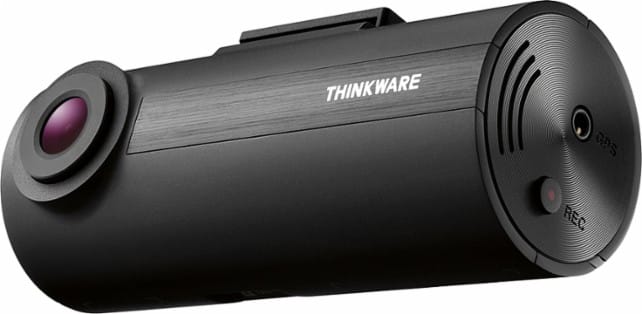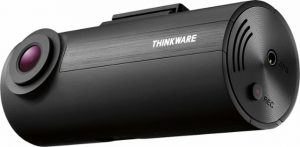 For a variety of reasons, car dash cameras are becoming hot items. One of the reasons may well be that the price of good quality dash cams has come down to reasonable levels. A model like the Thinkware F50 is less than $100, features a 140-degree wide camera with 1080p resolution, and will automatically save video 10 seconds before and after a collision is detected. Some more expensive models also allow you to attach an additional rear window camera as well.
Robot Vacuums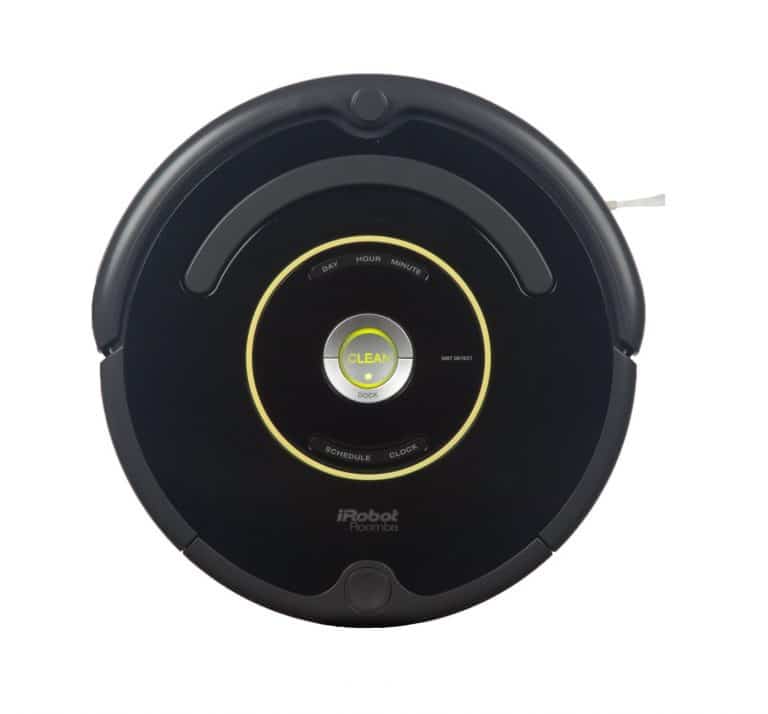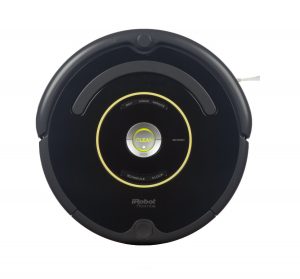 Little toy robots might be fun to play with, but robots that can take care of household chores are much more useful! Robot vacuums like the Roomba have been around for years, but in the last couple of years the technology has improved greatly and the prices have come down significantly. It used to be that high quality robot vacuums started at $500 or more and you can still buy models that are in upwards of $900, but a model like the Roomba 650 sells for approximately $325 on Amazon. My family had new hardwood floors installed in our house this summer and I purchased a Roomba 650 to keep our first floor free of excessive cat hair and dust. I set it to run every night around 3 AM and it manages to keep our entire first floor noticeably clean. There are a few things to get used to when living with an automated robot running around your house at night, but other than a few minor adjustments, we haven't had to do much to make sure the Roomba can do its job every day. Since it is a gift that keeps on giving, a Roomba might be perfect for someone on your list.
Bluetooth Headphone Adapters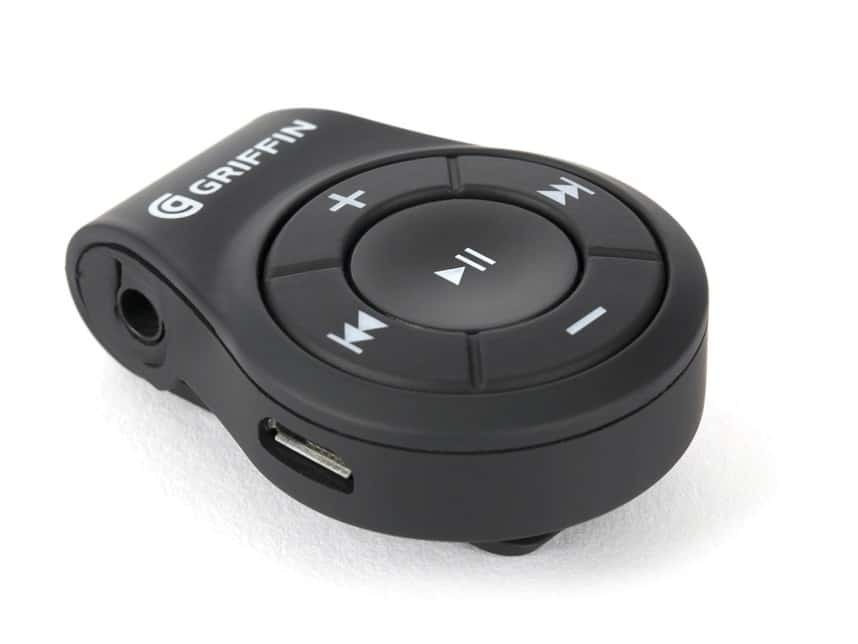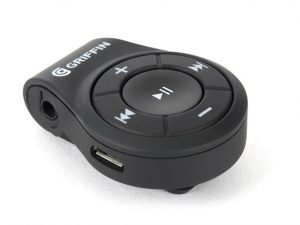 With all the fuss made over the iPhone 7 (and some other less well-known phones) eliminating the traditional headphone jack, many people are considering options for using their favorite headphones with these newer-style devices. One very simple and inexpensive way to adapt traditional headphones is with a Bluetooth adapter. Simply put, a Bluetooth headphone adapter allows traditional headphones to receive an audio signal wirelessly. Simply pair the adapter with your phone, connect your old headphones or earbuds, and listen wirelessly! A model like the Griffin iTrip Clip is only $20 so this can make a great stocking stuffer for someone who has or will soon have an iPhone 7.
C.H.I.P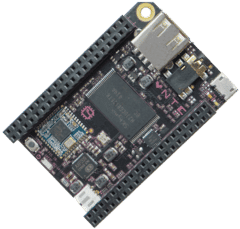 Imagine a computer that can fit in the palm of your hand and only costs $9. Well stop imagining because the C.H.I.P. is exactly that. True you need to add a monitor, keyboard, mouse, and put it in some sort of enclosure because for $9 all you get is simply a small circuit board. However, on this small circuit board is a full-fledged PC including a 1 Ghz processor, 4 GB of storage, 512 GB of RAM, and built-in Wi-Fi and Bluetooth. Now this may not sound like a lot of processing power compared to what you can purchase in a new traditional PC, but believe it or not the C.H.I.P. is capable of running a modern operating system and software. Now this certainly is a gift for someone who likes to dabble with technology projects, but for $9 it might create some technology curiosity in a young (or young-at-heart) gift recipient.
PhoneSoap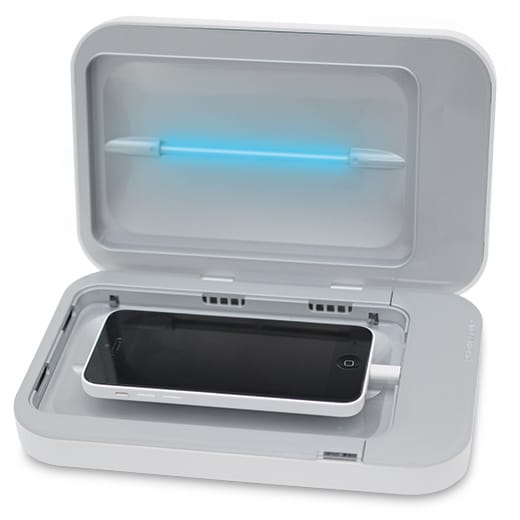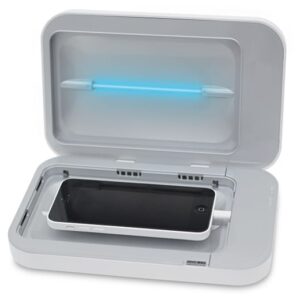 It's been said that the surface of most of our smartphones has more germs than a toilet bowl. I'm not sure that is true, but just to be safe it probably isn't a bad idea to sanitize your phone. The problem is that most normal methods of sanitizing aren't phone friendly. Either cleaning solutions present a liquid damage hazard to your phone or simply taking the time to clean your phone is a pain. Luckily for us, the PhoneSoap uses ultra-violet light to safely and quickly sanitize any smartphone (or anything you can put inside it). Basically, you put your phone inside the PhoneSoap device, close the lid, and 5 minutes later the phone is sanitized. At only $60, one PhoneSoap can serve your entire family. My family owns one and I can tell you that it does appear to do its job. If it saves someone just one illness, it is definitely a gift worth giving!
Parrot Pot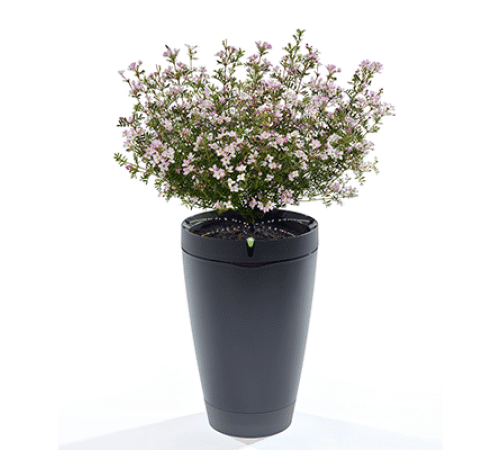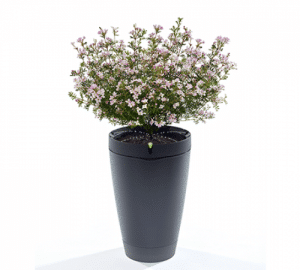 A lot of us enjoy having live plants in our home. But some of us aren't so good at remembering to water our potted plants. If only there was a way to have a pot that would water our plants for us. Well now there is! The Parrot Pot is a "smart" pot that detects when your plant needs water and automatically waters at the right time. It can hold enough water for up to a month of watering, so you can be sure your prized plant will stay healthy even if you are away on a trip. Normally at $150 it may be a bit of a stretch for someone who isn't a serious gardener. However, it is currently on sale for $99 so it might be a great gift for someone who enjoys their plants but isn't a green thumb.
If you have any questions about these or any other technology gift, please don't hesitate to ask!