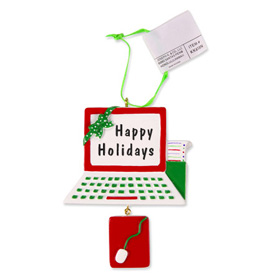 It's that time of year again! The holiday season means gift-giving and technology gifts are hotter than ever. My Holiday Tech Toys list is in its seventh year and I like to list some of the best tech items to give – or get! But first one quick tip on technology gift buying: do not open any technology gift you give until you give the gift and the recipient is completely sure they want to keep the item. I know some people like to personalize gifts by placing cards or such inside the boxes of gifts, but with most technology gifts, opening them restricts your return options. An unopened tech gift usually can be returned for a full refund or exchange, but opened items are usually subject to a restocking fee. Keeping that in mind, take a look at this year's Holiday Tech Toys and if you have any questions about holiday tech gifts, please get in contact with me.
iPad Air/iPad Mini & iPhone, iPod Touch
The iPad has been one of the hottest tech gifts ever, especially since the iPad Mini was introduced last year. With the upgraded iPad Air and the new iPad Mini with Retina Display, the trend is sure to continue. The iPad Mini makes a great gift for kids since it can be used for educational purposes as well as for fun. However, rumors are that the new iPad Mini with Retina Display will be in short supply this holiday season, so shop early! Alternately, the iPod Touch is like a "mini" iPad mini in case you have a younger person on your gift list who wants an iOS device. Of course the iPhone is still a hot gift, especially with the new iPhone 5C and iPhone 5S models, but make sure you are getting the person exactly what they want.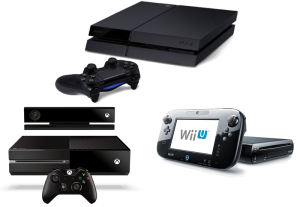 Nintendo Wii U, Sony Playstation 4, Microsoft Xbox One
The new 8th generation video game consoles are all ready for purchase just in time for the holidays! If you are buying for someone, make sure you know which platform is their favorite. However, note that the prices are quite different this year. The Nintendo Wii U starts at $299, Sony Playstation 4 $399, and Microsoft Xbox One $499. I'm finding it hard to believe that parents are willing to spend $399, yet alone $499 on a video game console, so I have a feeling that many people will be passing on the more expensive consoles this year until the inevitable price drop that usually occurs. But if you have a hardcore gamer on your gift-giving list and they want one of these consoles, shop early as oftentimes new game consoles are hard to get.
Nest Learning Thermostat
I reviewed the Nest Learning Thermostat last year, but it is still a great gift this year because it is an excellent example of a mainstream application of technology – and it can save its users a lot of money. Who wouldn't want a thermostat that can be controlled from a smartphone even when you're not home? Plus it "knows" when you leave the house so it can save energy. Read my review of the Next from last year.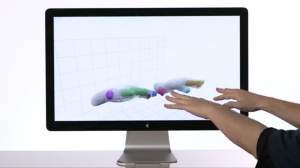 Leap Motion Controller
The Leap Motion Controller is a little on the techie side, but in the right hands (literally), it could be an excellent gift. The Leap is a small box that sits in front of your monitor and you can then move your hands in the air to control your computer. It may take a while for more apps to be written to take full advantage of the technology, but I believe that the technology of the Leap will have a place in the future of computing. If you have someone on your gift-giving list that is a forward-thinking techie type, check out the Leap. Read my preview of the Leap I wrote last year.
Fitbit, Jawbone Up, Lark
Personal activity and sleep trackers are a growing trend. They integrate with an App on your mobile device and help you keep track of sleep and fitness goals. Plus they have silent vibrating alarm clocks so that you can wake yourself up without disturbing your sleeping partner. The various models of Fitbit, the Jawbone Up, and the Lark are examples of this type of technology. Check them out and buy one for for your sleeping partner – or maybe do them a favor and buy one for yourself!
GoPro & MeCam
"Action" cameras are getting very popular and no brand epitomizes the category more than GoPro. If you know someone in the market for a video camera, the GoPro is worth looking at if you think they ever want to shoot video from their own perspective or from something like a bike or surfboard. If the GoPro is too far out of your budget, take a look at the MeCam for a less feature-filled but more affordable option. The MeCam isn't ruggedized or waterproof like the GoPro line of cameras, but they are wearable and are good for more casual uses or maybe for younger children who aren't going to be doing "extreme" videos.
Koomus K2 Smartphone Car Mount
With as much as we do with our smartphones in the car, I think having a dashboard or windshield mount is critical. They allow you to have your smartphone in plain sight and easy reach, similar to (but even better than) your car's radio. The key is finding a good mount that will solidly hold your phone but doesn't break the bank. After much research I believe I have found a good option that is also a good value. The Koomus K2 is an affordable mount that will securely lock down your smartphone to either your dashboard or windshield and is easy to get your smartphone in and out of. It works with multiple types and sizes of smartphones. I've been using mine since I had to get a new mount to fit my iPhone 5S a few months ago. So far, I've been very happy with the Koomus K2, although my own car was a bit of a challenge to securely place the mount at first. The Koomus K2 comes in black or white to match your smartphone.
Doorbot
It's about time we had an upgrade to the traditional doorbell. The Doorbot allows you to see who is ringing your doorbell through your smartphone. You don't even need to be home. Doorbot could be a solution for those who would like a simple way to keep an eye on who is visiting their home without investing in an expensive security camera system.
Apple MacBook, iMac, Mac Mini
For some, a traditional personal computer is still a gift they need to receive. With all the uncertainty about Windows, not to mention the increasingly destructive malware continuing to plague the platform, Apple's Macintosh computers are probably the safest bet as a quality laptop or desktop gift. Many people aren't aware that Macintosh computers can run Windows software if necessary, so you aren't limiting yourself or a gift recipient when buying a Mac – rather you are giving them the most options possible. Plus since Macs are virtually immune to the onslaught of malware, a Mac can pay for itself over time in greatly reduced service calls. The MacBook Air and MacBook Pro are Apple's line of laptops, while the iMac is Apple's main desktop line. If you're looking for a Mac on a budget, the Mac Mini can fit the bill nicely. If you are buying a Mac for someone, try to get as much information as possible on which Mac would be best for them and consult with a knowledgeable Mac expert before buying. Also, as I said above, do not open the packaging until the gift recipient is completely sure they want the Mac you purchased them in case you need to return the item.
Etón BoostTurbine 4000
As we become increasingly dependent on our mobile devices, getting caught with a dead battery can be a big problem. There are many models of portable "spare" batteries that can be used to recharge on the go. The problem is that we need to remember to recharge our spare batteries – they do us no good if they are also drained. However, the Etón BoostTurbine 4000 includes a wind-up turbine that we can use in a pinch to give ourselves a few precious percents of battery power. Simple but effective. I now have a way to survive in case of the apocalypse.